Is your Funding requirement less than Re. 2.5 Crores? Then you are probably a seed stage startup. [Note: Categorization of seed stage and early stage startups may vary].
Assumptions:
Your firm is existing for less than 18 months
You are still working out your product or service portfolio
You do not yet have a plan of action or you may have one but not yet commenced any work on this
Core team is not yet formed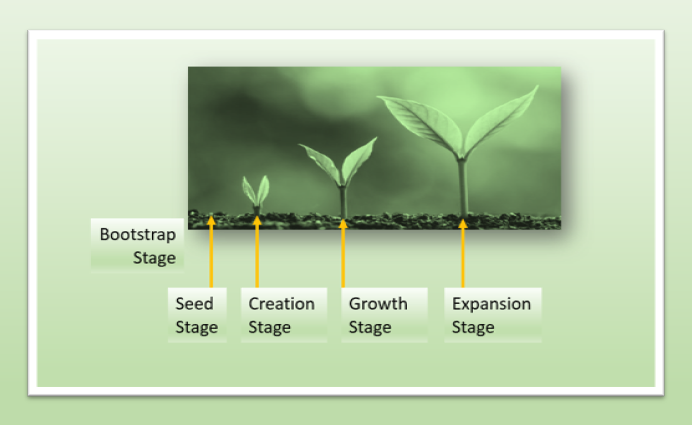 Note:
If you feel you have done all of the above and there is something else you want to convey do send us an email.
Important Points for a Seed Stage Startup Founder
#1 – Owners Money
Founders effort and money are the key measurables which investors look for while looking into the Startup Project Report. Record all your investments and expenses. Do not assume the amounts have to be huge or astronomical.
So, as a startup founder be ready to show evidence of above both aspects in the project report.
#2 – Software Expertise
In today's business world software has the potential to drive the startup to exponential growth. So, ensure that you have thought of all areas of your offerings which can be fulfilled by software.
#3 – Track Record
If founders are keen on getting funding they should create a good track record, even if it is of short duration, of dependability and credibility. What does this mean in the commercial world? You honor your financial commitments. That's it. Everything else will follow. Keep a watch and record of your expenses also.
#4 – Technological and Domain Expertise
Self explanatory.
#5 – Be Proficient in English
Nobody will tell you this. English is the language of Technology Business. This does not mean I am saying other languages are not important. Proficiency in English will go a long way in communicating your ideas and results effectively to your investors.
What you can do Next?
Step 1:
Think of getting a seed fund. Create a record of applications you have sent and the reason for the denial.
Step 2:
Focus on sale side. Get some customers to buy your product and use it, and get feedback, and how you are working or have worked on the feedback.
Step 3:
Build a team. This is an important step which many founders may not consider as important. A core team which has stayed with the startup simply means a high a probability of merit in the startup idea and its execution.
Step 4:
Keep a record of everything important happening in office.