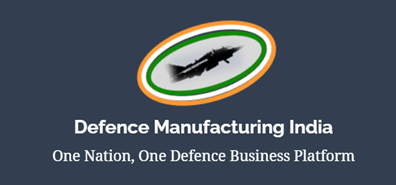 Unique Opportunity for Eng. College Departments
to establish
in the Billion Dollar Defence Manufacturing Industry
To,
HODs of Engineering College Departments
Create Your Department Listing on DefenceManufacturingIndia.com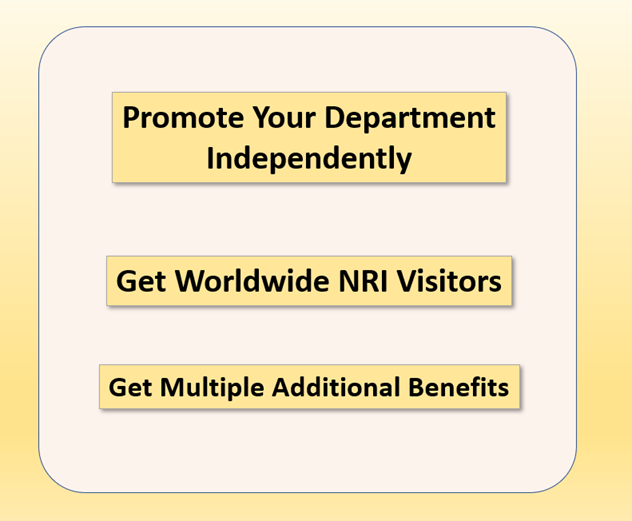 How Departments Benefit by Listing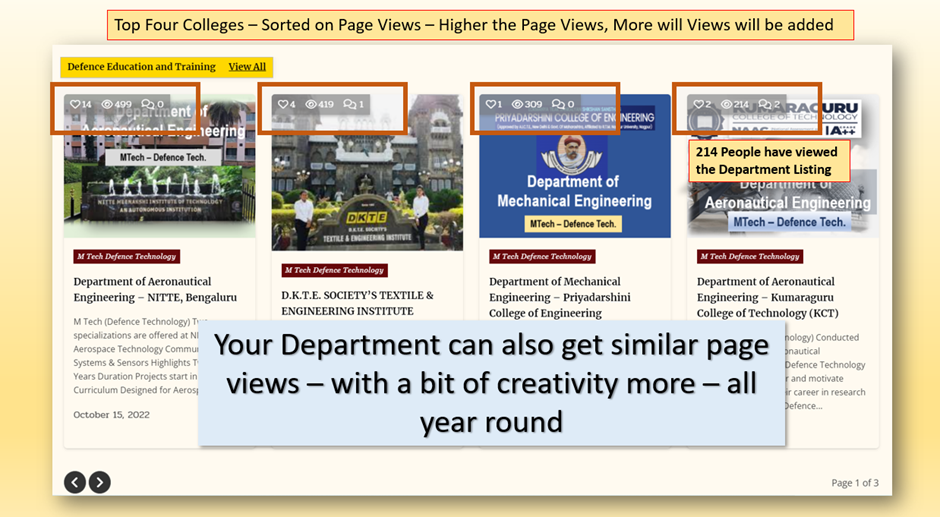 Your listing will appear like this: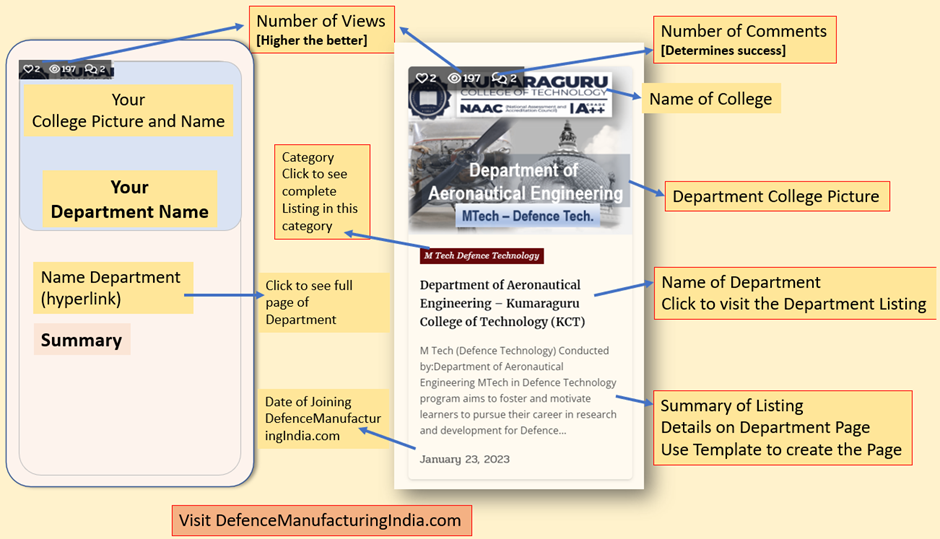 Explanation of Listing: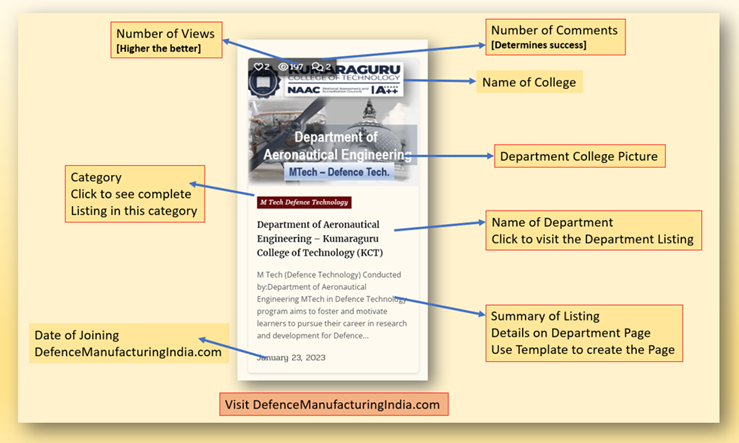 Benefits:
First and foremost, your Department will get publicity all round the year among

Defence related companies

Worldwide Visitors, NRIs
Participate in BILLION DOLLAR DEFENCE Manufacturing Industry
Defence specific Projects done by your students will be promoted among the above
HOD Promotion for Branding
SEO Boost to your Department Page
No competition from nearby college Departments of Same Branch
Promote your Department with periodic news release on this website and distributed
Get unique achievements, events and other key developments posted on this website and distributed
Promote Consulting services of faculty on college listing
Promote Defence Manufacturing related papers published by your faculty promoted
Startup Culture Creation & NIRF Rank in your Department by our Consultant on a BOT basis [optional]
Template for Creating Your Own Department Listing
Below, we have listed a general list of topics for filling with details of your college.
Limit to 6 Pics and Total Text of 1000 to 1200 words.
Keep Department as focus.
After you fill up just email the duly filled up word file, to this email id: dmindia58@@gmail.com   [remove one @]
Visit: DefenceManufacturingIndia.com for contact details
Be Creative- : Involve students and faculty of your department.
Use the below template to send your Department Details
Template Begins
Intro
Department Started in the year..
Faculty Strength/Highlights (can be merit, or other attribute)
Student strength
Achiever Alumni
Infra overview
HOD special info
Merit achievements of students over the years
Tech Clubs
Events slated for the year
Technology Infra
Building
Classrooms, Library, Labs
Computer Labs
Other Infra for experiments
Projects being worked on by Prof.
Student projects done over the years
Academic Focus [Steps your department takes to enhance academic knowledge and academic success].
Practical Experience Focus [Steps your department takes to enhance practical knowledge and skills].
Pics of Infrastructure (tech)
Pics of Events conducted
Address:
Name of Institution:
Address:
City:
Department Webpage:
Email of HOD:
Mobile:
Template Ends
Fill up the above template and send it to us at : dmindia58@gmail.com
Additional Benefits
List your Department Staff Achievements <<
Get useful Tips [share with students] <<
Thought Provoking Articles <<
Feature your College <<
Features being added
Defence JOBS – Comprehensive
Promote Faculty Consultancy
Billion Dollar Defence Projects Details
Software Certifications in Defence Vertical
Get your Department Listed! Now! First Come First Served.