If you watched this interview, you will have noticed Air Marshall Anil Chopra raising a valid and a pertinent point regarding technology.
In my personal assessment, his comment renders many of our defence plans half baked.
I say this because I come from a Technology background and I know how hard it is build an ecosystem of advanced technology, more so weapon systems ecosystem.
Till we build an manufacturing ecosystem of advanced technology weapon systems we have no other go but to depend on foreign OEM and acquire these systems through the Buy or Buy and Make options.
With his comment, he has brought out the biggest task on hand for all IIT, IISc Professors, and Technologists in the nation.
India is looking to these people for direction and answers.
What am I referring to?
Towards the end of the interview, Air Marshall says "Technology innovation is needed as the weapon systems have a high rate of obsolescence".
What does it imply?
In simple words, we as a nation cannot be always, year on year battle ready by buying such expensive weapon systems and depend on foreign companies, to sell us defence equipment on a regular basis".
So, what is the solution?
Manufacture weapon systems locally with modern Technology.
What is our position in terms of such technology ownership?
Not a very good position because if we were good, IAF would have purchased from local sellers. After all, they have served us with depleted and out dated machinery for several decades. Which really means what the nation offers IAF is not even as good as the ones which IAF is operating with.
Given the average state of technology in comparison with the leaders in the world, what we need is a massive movement in the defence manufacturing ecosystem.
So, the next relevant question? It is – What is the Govt.'s position?
After all it is the eventual buyer of all weapon systems. Let us list the response of the Govt.
1. Transparency
The Govt. has been very transparent and has made great effort to inform citizens of all the initiatives and efforts being done. There are several examples which I have discussed here >> Examples of Transparency I say this is very important as Transparency in Defence Manufacturing has never been our culture and it involves many perspectives also.
2. Innovation Encouragement in Defence
The Govt. has created a separate space for innovation in Defence and details are available here>
3. Defence Procurement Procedure
For the first time the Ministry of published a book on how it plans to acquire Weapon Systems from Indian Companies, Foreign Companies and Governments. Details are here>Defence Procurement Procedure
The central them of Defence Procurement Procedure is the aspect indigenous content. The Govt. is keen to know the indigenous content of each project both design and manufacture so that it can accordingly support. The Govt. is also benevolent that it is insisting on only around 50% indigenous content to consider the project as a preferred project.
All of the above shows the Govt. is keen to increase domestic production of weapon systems.
However, this is not a small problem and these steps are not enough.
To be honest previous Governments have tried to build indigenous technology capabilities but, somehow it has not worked to our advantage. While we have made tremendous progress in rockets and missiles, the same cannot be said of weapon systems across the board.
Before we go further let us answer the question – Where does Technology take shape?
Does it take shape in the Lok Sabha? No
Does it take shape in the War Front? Obviously, No.
Does it take shape in Govt. offices, No
If there is one place which is a good catchment area, it is the Engineering Colleges which has faculty – both Senior and Junior Professors who are knowledgeable in Defence Manufacturing and Students who interact with such faculty.
There is another place where Technological innovations are born – it is the OEM themselves.
Let us first look at Colleges.
Engineering colleges have an important role to play. To facilitate this, the Govt. has started a M Tech in Defence Technology.
At present 25 + colleges have started this course.
We need motivated Faculty and Students to look at defence manufacturing as a lucrative and interesting career.
To involve Faculty in this massive movement towards self sufficiency in defence manufacturing, we at Defence Manufacturing India have started inviting faculty to become Consulting Members with an offer that includes marketing of their skill sets, listing of their profile, exclusivity and many more. If you want to know what we are offer and how we intend to contribute towards including faculty in defence manufacturing self sufficiency, do not miss reading these two articles – Invitation to Faculty and Benefits of becoming Consulting Members.
There are two major drives we undertake for members. One, we guide them to become subject matter experts in Defence Manufacturing and expose their profiles to corporates thereby encouraging direct interaction. Two, we identify potential startup ideas and offer them the path to connect with existing startups and startup on their own.
The other major initiative we have is Lecture Series on Defence Manufacturing for Engineering College Faculty and Students. In this Lecture, titled "Defence Manufacturing – A New Opportunity" our Senior Professional will visit interested college and conduct a Lecture and interact closely regarding startups with both students and faculty independently. A small fee will be charged to cover the travel and per day fee.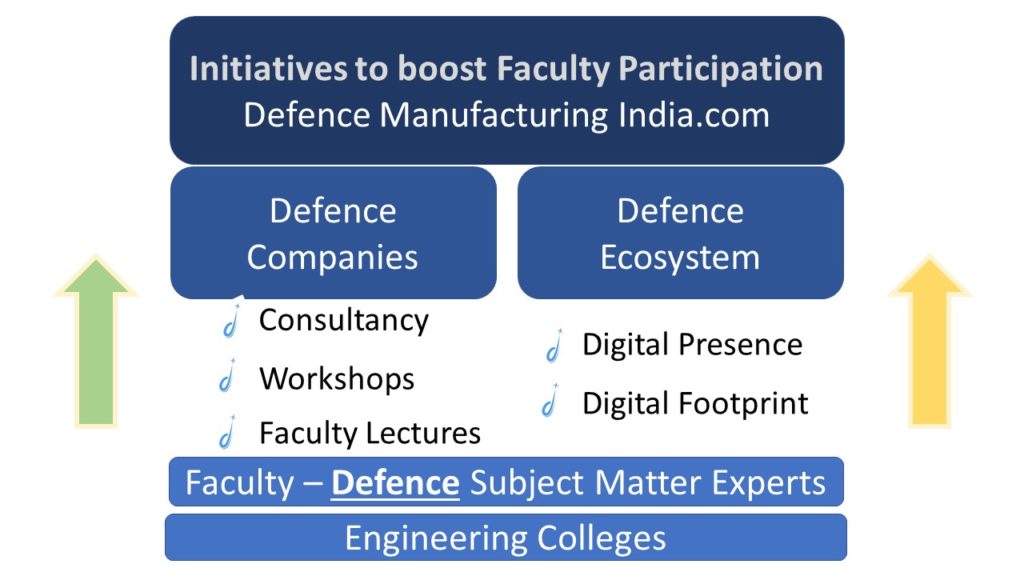 An additional service we are offering companies is to list their defence manufacturing jobs on this platform and enable the best and most suitable students to join them.
Kindly share, comment, support us. Your inputs are valuable.
Thank you Air Marshall Anil Chopra for bringing out a moot point on national media.