Nano Technology Polymer Consultant
Education
Ph.D. (Chem. Engg. : Studies on Structural Polyurethane Foam (IIT, Bombay), B. Chem. Engg. (Jadavpur University),

Contact Details
e-mail : bikash051954@gmail.com
Mobile Phone : +91 7738381130

City
Preferred City : Navi Mumbai
Additional Cities : Mumbai, Pune, Nasik, Sholapur
Present Position
Retired from NMRL (DRDO) as Outstanding Scientist in 2016.
Previous Positions
2007-2012 Scientist 'G' NMRL (DRDO)
2012-2016 Scientist 'H'/Outstanding Scientist NMRL (DRDO)
2017-2018 Director, Polymer Nanotechnology Centre
BSA Crescent Institute (A deemed University), Chennai.

Areas of Expertise
Structural Polyurethane Foams
Viscoelasticity
Vibration damping and acoustic attenuation by polymers
Interpenetrating Polymer Network
Thermal characterization of Polymer: Curing and degradation kinetics
Life estimation of polymers -Physical and Chemical ageing
Polymer matrix composites and polymer nanocomposites

Teaching of Subjects
Thermal analysis of Polymers : Isoconversion kinetics, life estimation.
Rheology and viscoelasticity
Polymeric composites and nanocomposites
Polyurethanes – Processing technology
Method of Consulting and Teaching
Both Off-line and On-line (using Power Point, Excel, pdf etc.)

Publications
1) Book : 1
2) Book Chapters : 4
3) Papers in International Journals : 48
4) Conference/Seminar papers: 20
5) Patents : Indian : 9, International 1
Awards and Recognition
DRDO "Scientist of the Year" Award in 2010
DRDO "AGNI Award – 2004" for excellence in indigenous technology
Laboratory Technology Group Award (as Team Leader) -2003
Reviewer of scientific papers in International Journals.
Important Publications since 2016 (after superannuation from DRDO)
(a) Book
Polymers for Vibration Damping Applications,
Bikash Chandra Chakraborty & Debdatta Ratna, , @ 2020Elsevier, Amsterdam, London, New York.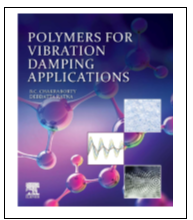 Papers in International Journals (2016 onwards)
Microwave Absorption by Melamine/Carbon Nano Fiber Composite-11, Maheshwar Sharon, Ritesh Vishwakarma, Raju Gurung, Anubhav Gupta, B.C. Chakraborty and Madhuri Sharon. International Journal of Research and Scientific Innovation (IJRSI) , IV( Issue VS) May 2017 ISSN 2321–2705.
Poly(ethylene glycol) (PEG)-modified epoxy phase-change polymer with dual properties of thermal storage and vibration damping,  Swati Sundararajan,  Amit Kumar, Bikash C. Chakraborty, Asit B. Samui  and Prashant S. Kulkarni.
Vibration Analysis of Circular Cylindrical Shells – A Comparative study; Varun Mohan, Bikash C Chakraborty, Raghvendra Kumar Sharma – International Journal of Advanced Science and Technology, Vol. 29, No. 11s, pp. 87-99 (2020).
Study of the Effect of Graphite Filler on the Vulcanizing Behavior and Properties of Nitrile Rubber and NBR-PVC Blends, D. Murali Manohar, B.C. Chakraborty and S. Shamshath Begum, J. Polym. Mater. Vol. 37 (1-2) 91-107 (2020).
Hardness – Elastic Modulus Relationship for Nitrile Rubber and Nitrile Rubber – Polyvinyl Chloride Blends. D. Murali Manohar, B.C. Chakraborty, S. Shamshath Begum, in Advances in Design and Thermal Systems (ETDMMT 2020), (Eds.) L. Ganippa, R. Karthikeyan and V. Muralidharan, (2020) 301-314.
Study on the effect of graphene and nanoclay on the properties of nitrile elastomer – polyvinyl chloride blend with a potential approach for shock and vibration damping applications. D. Murali Manohar, B.C. Chakraborty, S. Shamshath Begum. Iran. Polym. J. (2022). https://doi.org/10.1007/s13726-022-01064-6
Study on the effect of nanoclay as reinforcing filler for nitrile rubber – polyvinyl chloride blend: frequency response of dynamic viscoelasticity and vibration damping. D. Murali Manohar, B.C. Chakraborty, S. Shamshath Begum, Ravikumar N., Sivakumar C. Iran. Polym. J. (2022).