The Akash air Defence missile system is a medium range, surface to-air missile system created to fire and launch AKASH missiles. Designed to provide air Defence against air threats, semi mobile and static vulnerable forces and areas. The system has cross country mobility which makes it a versatile weapon system.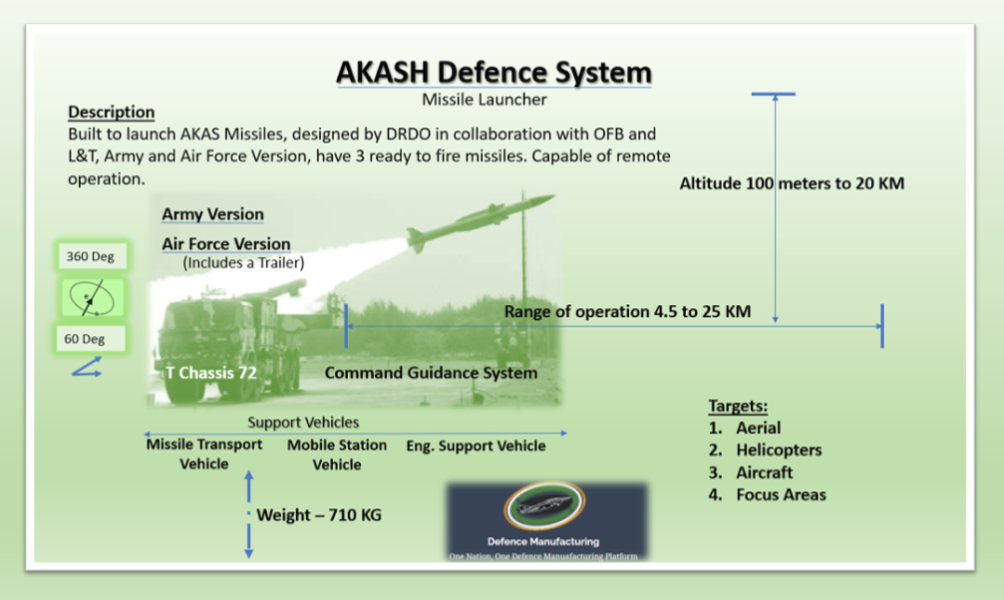 Equipped with a range of real time multi sensors, these systems enable instant data processing and threat evaluation. This facilitates the system to engage multiple targets from any direction. The entire system is flexible, up scalable and can be operated in group and autonomous modes. It employs command guidance and relies on phased array guidance radar to guide the missile till intercept
Specifications:
Range of Operation: 4.5 km to 25 km
Altitude of Operation: 100 m up to 20 km
Length: 5870 mm
Diameter: 350 mm
Weight: 710 Kg
Guidance System: Command Guidance
Target types: Helicopters, Fighter Aircraft, UAVs etc.
Fully automatic with quick response time from target detection to kill.
Open system architecture ensures adaptability to existing and futuristic Air Defence environments.
High immunity against active and passive jamming.
Secured mode of communication between combat elements.
Self-sufficient in electrical power with in-built power sources.
Road and rail transportable with quick mobilization and deployment capabilities.
In-built safety features with IFF.
COMPANY: DRDO
CONTACT: imd@bel.co.in