AKASH is a short-range missile deployed to protect vulnerable and strategic areas from AIR attacks.
A unique feature of this class of missiles is that they can engage multiple targets simultaneously. These missiles can operate in autonomous mode, or in group mode and take guidance inputs from a ground-based command.
AKASH has built-in Electronic Counter-Counter Measures (ECCM) features which means they can deceive enemy radars and sensors. The entire weapon system has been configured for launched being from mobile platforms.
AKASH is built for targeting Helicopters, Fighter aircraft, UAVs etc. It is a fully automatic missile with quick response time from target detection to kill. Its open system architecture ensures adaptability to existing and futuristic Air Defence environments which is very important as Weapon Systems are being upgraded continuously.
AKASH Missile is highly immune to active and passive jamming by the enemy systems. It has in-built power sources making it high reliable and effective. It can be transported by Road and Rail. It can be quickly mobilized and deployed.
Specifications:
Range of Operation: 4.5 km to 25 km
Altitude of Operation: From 100 m up to 20 km
Length: 5870 mm
Diameter: 350 mm
Weight: 710 Kg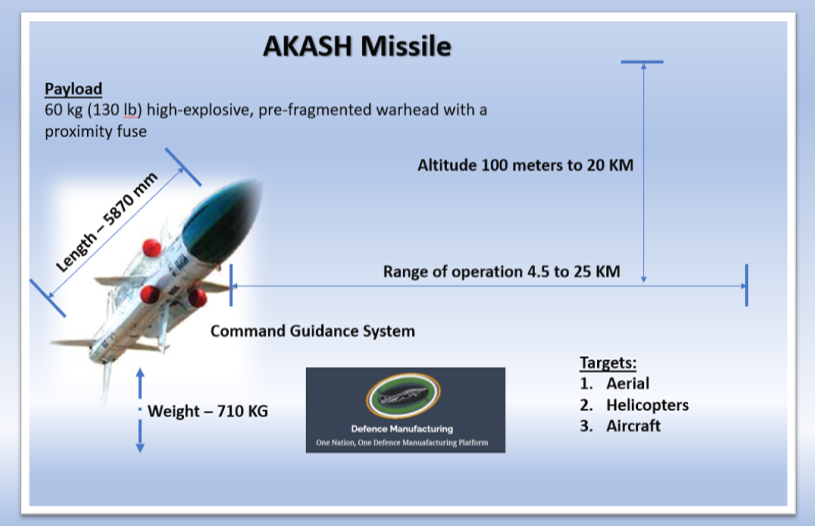 In-built Friend or Foe Detection
Command Guidance System
COMPANY: Bharat Dynamics Limited
CONTACT: bdbdl@bdl-india.in
Terms used and their Explanation:
Command Guidance System
In simple terms, it is a ground based system which is designed to control the flight path of Missiles and other such air borne Weapon Systems.