M Tech (Defence Technology)
Two specializations are offered at NMIT
Aerospace Technology
Communication Systems & Sensors
Highlights
Two (2) Years Duration
Projects start in first year
Curriculum Designed for Aerospace and Defence Industry
Teaching by Professors / Scientists from DRDO
Laboratory Courses at R&D Labs of DRDO
Thesis work in DRDO Labs
Access to Interdisciplinary labs for Robotics and MEMS
Degree conferred by Visvesvaraya Technological University(VTU)
Eligibility
Candidates must have passed the prescribed qualifying examinations with more than 50% of the
marks in aggregate. SC/ST candidates with more than 45%
Engineers of all Branches except Civil Engineering are eligible
GATE/PGCET conducted by Govt of Karnataka
About M Tech (Defence Technology)
Defense Technology is the branch of engineering concerned with the design and manufacture of Missiles & Aircraft and Spacecraft. Defense Technology focuses on the Design, Construction, Development, Testing and Operation and Maintenance of Defence Systems, Land Military Aircraft, Spacecraft. This course is beneficial to the students to gain proficiency in these advanced fields, such as Warfare platforms, Guidance and control, propulsion technology, aerospace system configuration. Design & Simulation. UAV design aero elasticity of structures, computational mechanics, post flight test analysis, military electronics etc.., and many advanced subjects are taught by DRDO Scientists and lab experiments are conducted in DRDO lab of your field of study.
Career Opportunities
Aerospace & Defense Companies such as Boeing, Airbus, HAL (Tejas Division), Govt. R&D Centers, Tier 1 and 2 Manufacturing Companies, Aerospace / Defense PSUs and Multinational and private sectors.
Contact
Dr P N Tengli, Professor, Aeronautical Engg.
Email Id: prahalad.n@nmit.ac.in
Mobile: 9483715120, 9449116893, 8147719698
Land Line: 080-22167840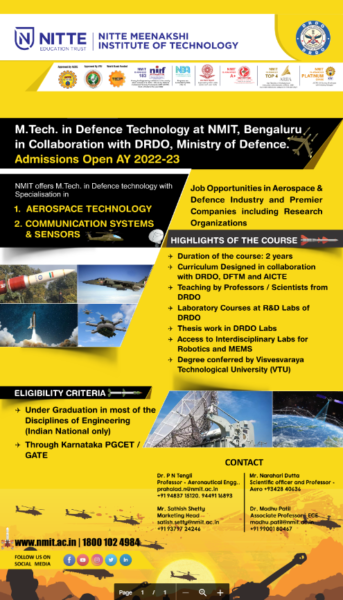 .