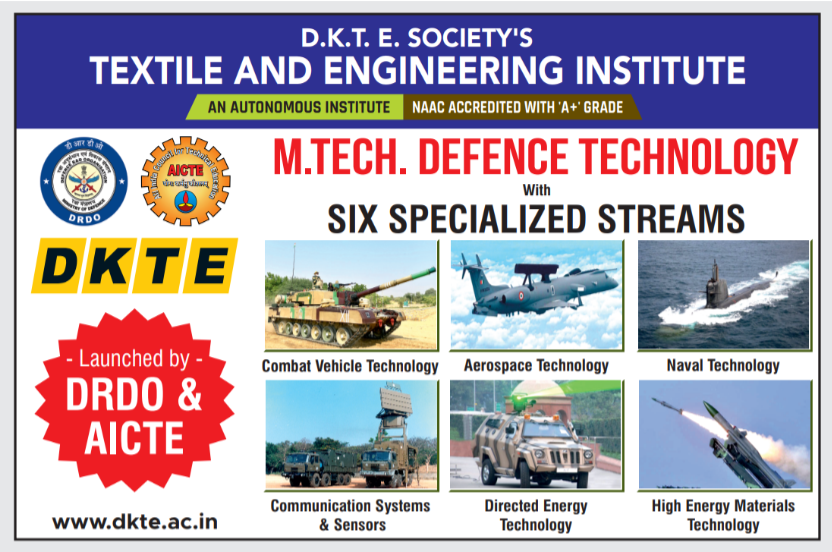 About Us:
DKTE's Textile & Engineering Institute, Ichalkaranji, Maharashtra, enjoys a unique and prominent place amongst the Engineering colleges that are engaged in education, training, research, and consultancy in various disciplines of engineering. The Institute is equipped with excellent infrastructure in terms of spacious buildings, ultra-modern machinery, and equipment in our laboratories, a well-equipped Library, and highly qualified and experienced faculty, and staff. AICTE has recognized our Institute as QIP Center and also allowed to admit Foreign National and NRI students for all UG and PG programs.

National Assessment and Accreditation Council (NAAC) has awarded A+ Grade with Cumulative Grade Point Average (CGPA) of 3.53 to our institute in the First Cycle of Accreditation. Our institute has emerged thrice as the Winner of 'Best Industry-Linked Engineering Institute' in 2015, 2017 and 2022, in the nation-wide survey conducted jointly by All India Council for Technical Education (AICTE) and Confederation of
Indian Industries (CII). The Institute has secured 33 rd rank and figured in "Excellent Band" of ARIIA (Atal Ranking of Institutions on Innovation Achievements) Ranking in 2020 and 2021 sequentially.
About M. Tech. (Defence Technology):
DRDO has collaborated with AICTE for conducting the Regular M.Tech Course in Defence Technologies having 6 specialized streams in collaboration with All India Council for Technical Education (AICTE). The M.Tech courses would infuse interest in students and motivate them to pursue their career in research and development for Defence and security to join Defence, PSUs and private Defence industries. To support the efforts of DRDO and to fulfil the vision of 'AatmaNirbhar Bharat', in defence product sector, DKTE'S Textile and Engineering Institute, Ichalkaranji, has taken initiation to start the course from academic year 2021-22.
Program Objectives
To develop Post Graduates who have the necessary theoretical & experimental knowledge, skill and aptitude in Defence technologies and systems and can get recruited in the various Defence laboratories, Defence public sector & private industries, ordnance factories and other similar sectors
of the economy at national and international level.
To contrive skilled manpower in the field of Defence technologies.
To enhance students' interaction with the senior, experienced manpower engaged in Defence labs and Defence industries and have real time knowledge / experience in the technology development, technology deployment and Defence systems.
To acquaint students for the needs of technologies related to Defence & security of nation and to create zeal among students to pursue research and development for Defence technologies.
Eligibility criteria:
Almost all branches B. E. / B. Tech. completed graduates are eligible for taking up the MTech. Defence Technology courses.
Contact:
Prof. R. N. Patil
Co-Ordinator
Email: rnpatil@dkte.ac.in
Mobile: 7020477108