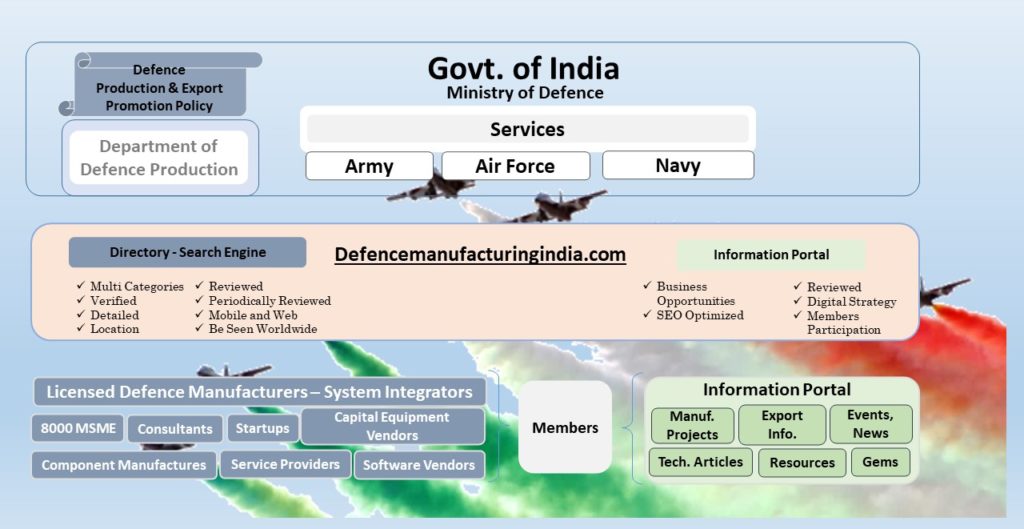 This article seeks to answer the Questions:
Where does Defence Manufacturing India . Com fit into the big picture?
How does Defence Manufacturing India . Com performs its role?
Firstly, let us see the Big Picture
The big picture is the birds eye view of the Defence Weapon System purchases in India.
How is this knowledge helpful to MSME sector companies.
MSME company business development managers and directors will be able to understand how do the orders flow and how to capture them. It is very important to recognize that all weapon system purchases are done by the Govts.In India, it is done under the aegis of Ministry of Defence which makes the purchases.
The Weapon Systems are manufactured by the Private Sector with the active leadership role by the Defence Public Sector units, Defence Research and Development Organization, and Ordinance Factory Boards.
Defencemanufacturingindia.com sits in between the Govt. sector and the private sector and simultaneously works for the different verticals of the private sector.
Let me give an example for both the cases.
The DPSUs can use the directory to search and locate vendors in specific verticals.
In the private sector itself component manufacturers can use the directory to locate trusted and verified vendors for providing sub contracting services.
Similarly, sub contracting vendors can search and find, trusted component manufacturers to increase their business.
As the directory is online, businesses worldwide will search and find vendors in India to out source work, looking for a competitive price.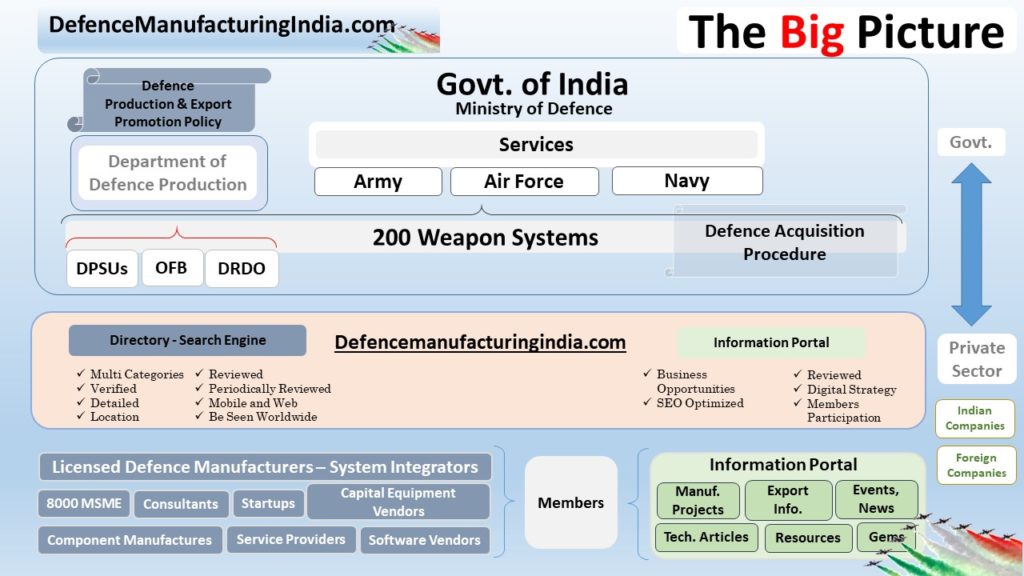 Unlike other Search Directories, Defencemanufacturingindia.com takes a unique and quality first approach.
This does not at all mean that it will only cater to the best. That would be a narrow approach and self defeating.
This directory takes an all are welcome approach, and seeks to provide them with required tools and guidelines to acquire all the qualifications to become top class Defence manufacturers.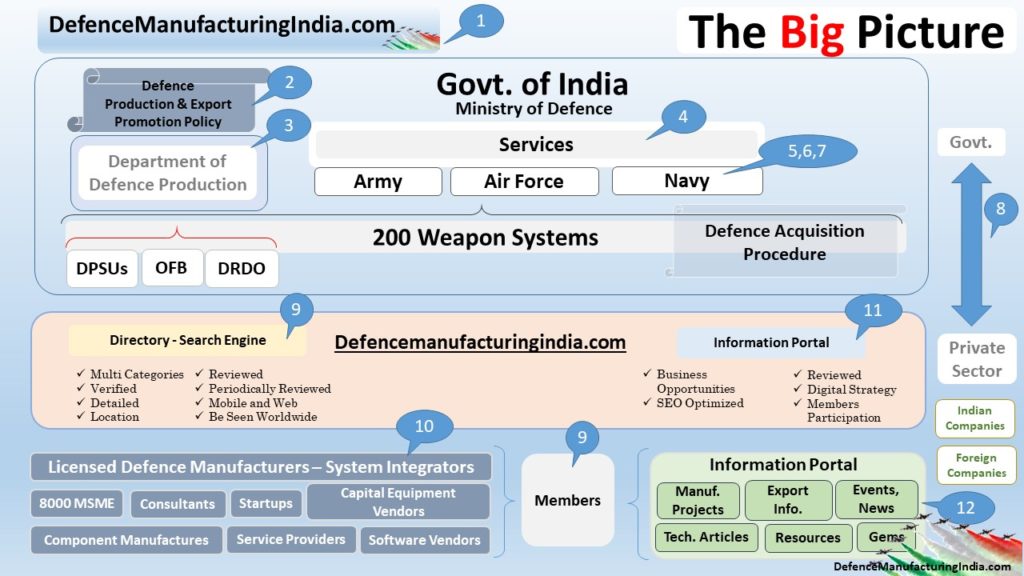 This objective is achieved, one, by expecting the directory members to pass through a 10 step filter to ensure that they do qualify to become Defence manufacturers. [This filter process is a work in progress, is already built in and will be improved as end users come up with their expectations].
Two, the information portal will provide information to the members about new projects, resources, gems of the industry and export information to gently nudge them towards success.
Let us understand the Big Picture better.
Defencemanufacturingindia.com is a search directory and an information portal.
Defence Export and Production policy document which outlines Govt of India's plan to promote Defence manufacturing and export of the same. A detailed article is available here. Similarly, the Defence Acquisition Procedure is the document which outlines in clear terms the procedures to be followed by vendors to sell to the Govt.
Department of Department Production is the department in the Ministry which is the nodal department overseeing all Defence production.
Services consists of Army, Air Force, and Navy, and they are the end users of all the weapon systems. Note the important fact. While the Govt. is the buyer of the weapon systems, the end users are the services.
Image is itself representative. The Private Sector as defined by the Govt. of India includes both the Indian owned companies and Foreign companies with Indian partnership.
This is the search directory
Members for the Directory are selected based on certain criteria. Members are grouped under various categories and locations. For instance, cutting tools are grouped for a certain location and the geographical range can be extended visually
The information portal is a resource for members, and aims to provide broad leads and all resources to enhance their business
All inputs will category driven. For instance, heat treaters will be given information specific to their focus. Component manufacturers are provided with info related to their focus. An example: Profit Secrets for Component Manufacturers