From 2014 serious proactive efforts have been made, such as Startup India, creating various funding options, policy on creating a startup, encouraging colleges to create a startup culture. However, Startup movement is at cross roads.
Let us face it.
One indicator of this is the Modi Govt. has put greater controls in releasing supporting funds for STEP and Technology Business Incubators. Refer this Report >> Steps and Funding.
No funding after 2012. Note that, the committee to sanction funds meets once every six months. As 2014 elections drew near, the meetings stopped and sanctioning stopped, and the new Govt. went further and stopped all funding via the member secretary route.
Meanwhile, AICTE has issued a note asking all colleges to start a – TBI (STEP), a separate entity to create a startup culture in the college and also be a nodal point in the surrounding areas.
How many colleges have created a vibrant startup culture?
Very few.
What does this point to?
Colleges do not have the requisite tools and methods to create a vibrant start-up culture.
And, the authorities have been reluctant to suggest a blueprint to colleges to follow to create a start-up culture in their respective institutions.
Some institutions, not knowing what to do, have converting their STEP / TBIs into Co-Working Spaces.
The consequence of all this is that students are at a loss. On one hand everyone is talking about startup seed fund, venture capital, successful startups, tax breaks for startups, esops, and many more, on the other hand students are left to fend for themselves. The average (not in academic marks, but the common) student is really confused – with basic questions, how do I start, where do I start, whom should I talk to? Why will someone give us money to start?
While, most startup cell in charge are giving students lots of colorful info, this is nothing more than a postman job. It is just a hope that some day some startup will come into existence. Others, are conducting theory classes on startups and entrepreneurship!
Let us define a vibrant startup culture.
In simple words, a culture wherein students come out with plentiful of startup ideas, many stay on board, few get to implementation, and few become great startups.
And, for the institution the ROI is, the learning which happens here will propel students to become high achievers in whatever they set out to do in life.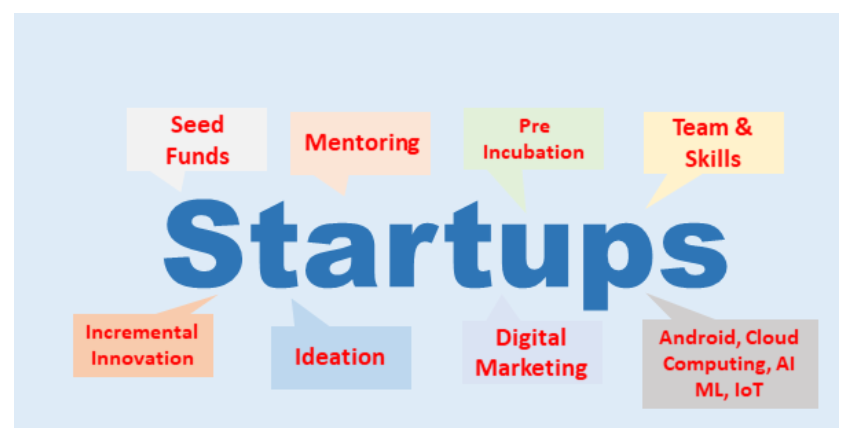 Now, let us look at what colleges can do to kick start a vibrant startup culture:
Incubation Space
This is the first indicator. Does the college have a great incubation space? Is it well furnished? Does it have a meeting place?
How do you judge whether an incubation space is startup friendly?
Check with the incubation in charge for the rentals. If it is Re. per table, it is probably a co-working space. If it is a co-working space, with commercial rental rates, simply take this STEP / TBI out of list of preferred TBI's. This is something to be considered by NIRF Rank officials while ranking TBI's.
Is the incubation space in India's TBI Map? Is record keeping a practise in the TBI?
Pre-Incubation Space
Both pre-incubation and incubation spaces are equally important. And, students should be exposed to pre-incubation space as early as first semester.
Check whether pre incubation space has a space for students to start their project, safekeeping place, a studio, an IoT lab, and startup books.
Are the students told what kind of projects get funding from Govt. and what kind of projects get VC's interested. This will form a critical part of pre-incubation training.
Incubation club
Each college may have its own version of the club but they all meet similar objectives.
Expose students to essential technologies such as Python, AI, ML, Android, and Cloud Computing. This training should be across the board for all students. You may want to know why? Think it over. Every startup today, has a software component to it. So, a student should be knowing the role of software in his project, at the ideation stage itself.
Tie up with EDI and start training programs.
All students should attend this club once a week to discuss topics such as what is the secret plan of Reliance in Tie-Up with facebook?
Another topic, the importance of technology in today's startups.
Yet another, corona and after, how it will change the world.
Thrust Areas
This is the responsibility of respective departments. Departments have to make progress in multiple fronts in their thrust areas and this will show up in consultancy and startup opportunities.
Thrust areas bring in focus and return on investment of resources. It also brings in optimization of resource allocation.
Enables building of deep relationship with corporate companies and capabilities to offer high value.
Without carefully chosen thrust areas, it is most likely, students come up with entry level startup ideas like online grocery shops, online errand service and so on. The age of core sector startups is upon us and departments have to wake up to this.
Awareness Exercise
Do you conduct a project awareness program for students? Does it include exposing students to the various departments in your college, location where the previous projects are located, what are the features of the projects already done, what is the grants received for the projects, etc.?
Design your awareness exercise so that students feel compelled and inquisitive to know what is happening.
Creativity and exposure should be the theme of this exercise.
Say YES to Student Ideas
How much can you accommodate student ideas? No limit or quite restricted? If you think, 100% of students should do great projects, it is not possible. Do you believe that all 100% students can be exposed to various facets of startups and running a business, then you are in the game.
When you start saying YES to students, it will have a dramatic effect in students perception of the institution. They will be encouraged to be in the college for longer hours and work towards building their future. Otherwise, they will go to some other place.
Are you happy to accomodate students technical questions and work with them to find the answers?
Do you feel comfortable to say "I do not know" to your students?
Conduct an awareness program for all faculty to learn to say Yes to students suggestions.
The summary of this topic – STOP saying NO to students ideas and suggestions.
Allocate specific time of the week for project ideas for all students
Make it possible for students to discuss project ideas with the TBI In Charge. Formalise it, even preliminary exercise should be given some credits.
Create a monitoring program to track which students are visiting the TBI and what is the idea they are suggesting.
Hold management meetings with the TBI In Charge and discuss what can be done to encourage more students visit the TBI and how to empower them to think of better and bigger projects and their roles in it. This is an important exercise as responding to student's creative thinking is a fluid and changing process – meaning, there will be changes year to year and college to college. So, management has to evolve flexible strategy to bring in vibrancy in the startup culture.
Mentoring
While mentoring is an activity which happens mainly around startups, in the case of college startups, mentoring happens in the pre incubation period also.
A mentor has to be a startup entrepreneur, who knows the steps, and things to do to make the startup grow.
He should be able to guide closely initially, and as the startups mature, let them make their own decisions and function.
He should not be overbearing, as startup founders are independent minded but at the same time if he knows something which can make a difference, he should not hesitate to communicate.
Mentoring is a delicate art and practise.