Those who know about this website Defence Manufacturing India may have a question "How is it that an article for Engineering Students finds a place in Defence Manufacturing Business Website?"
Your question is very relevant and well received.
We believe that for the Defence Manufacturing and Business Industry to grow in India and propel India to achieve the stated dream of India's PM, that is India becoming a Defence Manufacturing Hub and Super Power, Engineering Graduates will be the drivers.
Not just Engineering Graduates but Confident Engineers.
For creating a large pool of Confident Engineers we need to work for two things:
Students have to clear every semester in the first attempt
Students should be well aware of the concepts of Engineering subjects
This article gives a solution which consists of three simple steps to achieve these two objectives. It is primarily created for the students of Engineering Colleges.
Before we discuss the 3 step solution, let us have a quick look at situation.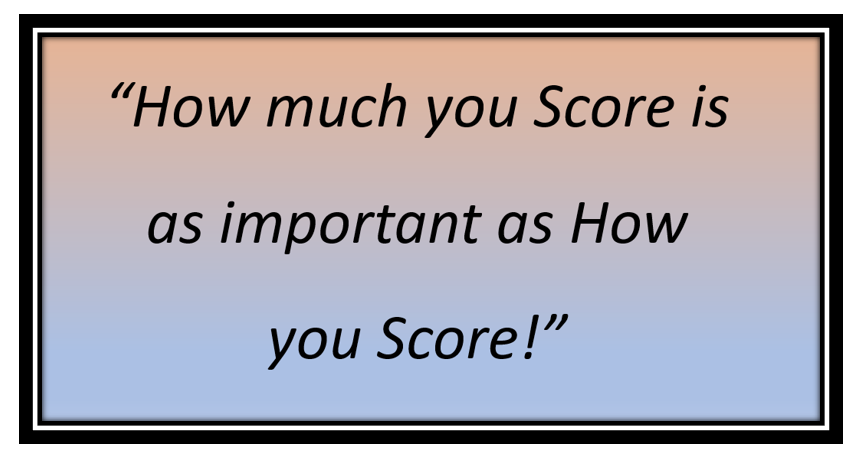 We are aware that an Engineering Degree consists of Eight Semesters (8) over a four year period. Compared to the previous 12 years of their studies, where a student is gradually introduced to a subject, made aware of the terms, and the sentences, concepts, exam questions, in an Engineering course, there is no such introduction or familiarization. Most students fail to appreciate this. All this means time is at a premium.
Even those who do, find shortcuts, which is why most of these students are unemployable!
In a short duration of six months, students have to clear nearly six plus exams and in 48 months, 50 plus exams.
So, apart from the terms, clearing exams are a critical part of a student's confidence.
Now, comes the third aspect of an Engineering Course. The concepts we need to learn, understand and master. Believe me, it is this aspect which will determine how well an Engineer does in his or her career. It is not the EXAMS!
So, we have identified 3 important aspects of achieving the two objectives stated earlier.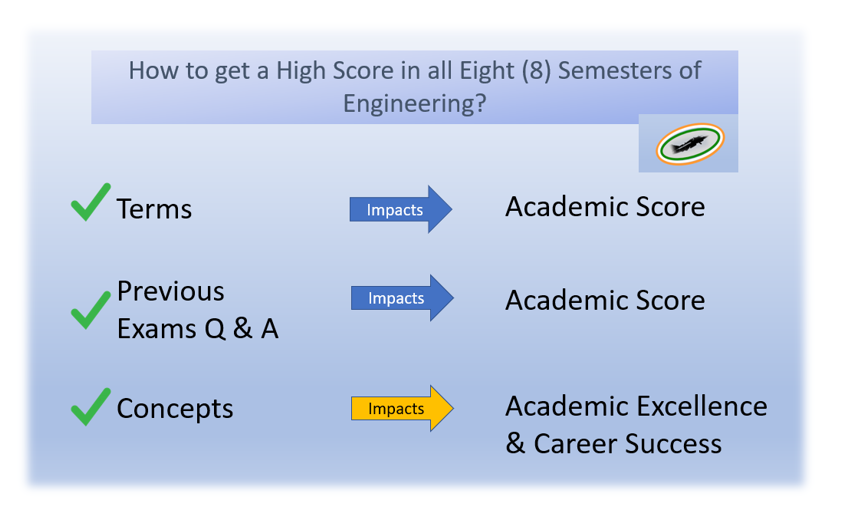 Subject Terms
Let us understand for the purpose of this article, a term is a word or phrase used to describe a thing or a basic Engineering concept. This definition is same as the one in the dictionary, but just modified a bit for this article.
We are all aware that terms are the building blocks of all Engineering subjects.
If a student wants to quicken the pace of learning, clear the subjects with flying colors, he/she has to meet the following objective.
Become familiar with the subject terms in the shortest possible time in every semester.
To meet this objective, list all the terms and their one or two line meaning, sequentially and subject wise. Do not forget to cover all the Chapters in all the Subjects.
And, everyday for the first one or two months, allot two hours for memorizing the terms. Plain and simple, just memorize the terms.
As you move further into the semester, shift the exercise of memorizing of terms to a time of the day when you are not fully focused or a bit tired.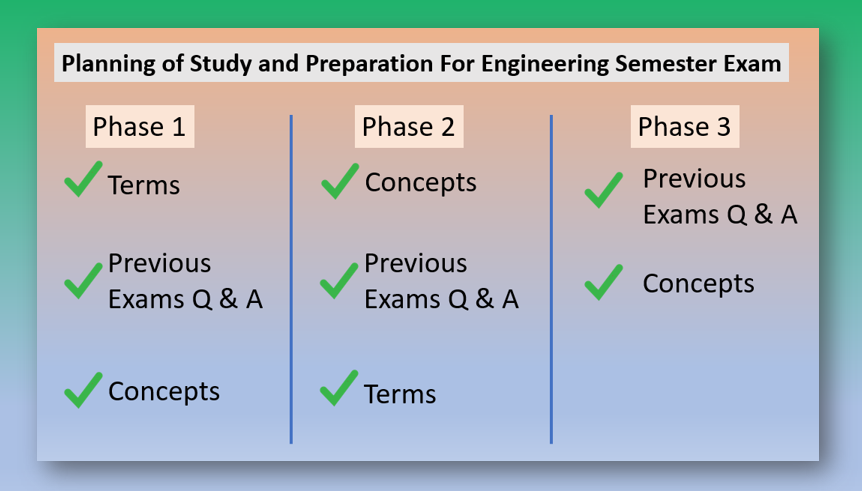 Limit the number of terms for each chapter in a subject to 25. Increase the number as you move further into the semester.
The next topic we will address is the Exams.
Exams
A good score in all your exams is necessary for a Confident Professional Career.
And, academic score is the key to getting a Good Job.
So, how to score well in Exams?
Just as the Terms, do not wait for the subject to be taught in College or Tuitions for you to do this exercise.
List all the questions and answers of all previous Exams, Subject wise and if possible Chapter wise.
Go ahead and start practicing these questions and answers from the first month of your semester itself.
Note that as you move closer to the exam dates shift practicing these questions and answers to the most convenient and most focused part of your day. This means if your most productive study hours are the early mornings, move practicing exam questions and answers to early mornings as exam dates near.
Concepts
This is the most important aspect for succeeding in your professional career, after you complete your studies and for achieving academic excellence. Note the subtle difference between academic excellence and a good score.
An Engineer who is familiar with even 50 % of the concepts of his Engineering subjects will do very well in his career. Very well meaning very very well.
So how do you handle this?
Remember, learning concepts can be a highly rewarding and fulfilling experience if you do it right. I will explain this section in a Question and Answer format.
What is a Concept?
A Concept is a detailed explanation of an important building block of a subject.
It usually is more than one or two lines, may involve mathematical calculations and conclusions, and can be explained in most cases using a block diagram.
How to create the notes for Concepts?
Use authoritative books, internet and professor's guidance if possible.
A thumb rule to follow is to check if the explanation is good or not. The language should be simple. If not search for a different source.
What should I remember when I prepare the notes for Concepts?
Two things:
Remember to forget about memorizing when learning concepts
Explore and wander in your quest to appreciate the concepts
Should I refer books written by foreign authors for learning Concepts?
Certainly. In fact, I strongly recommend doing it. Even if it costs are a bit high. As English is the native mother tongue of American authors, their narrative is very simple and uncomplicated. Read this article on Teaching Styles in Engineering Education in America , it can help you in your understanding of learning engineering.
When should I start preparing the notes for Concepts?
Do this exercise along with preparing the notes for Terms. That is right at the beginning of the semester.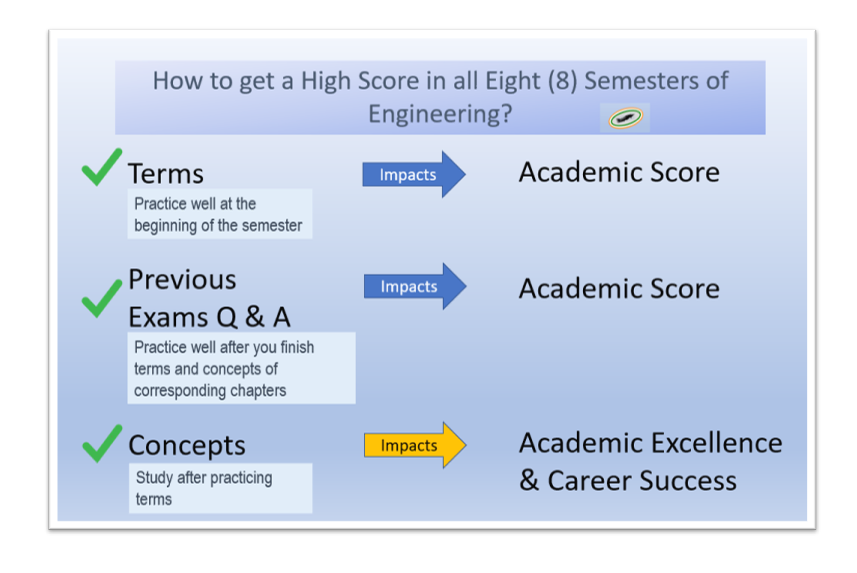 What are the other tips for preparing the notes for Concepts, Notes and Q & A?
Build notes for Concepts on your own. This is very important as your grasp of concepts help you in your career.
For Question and Answers it is advisable to use a ready notes if available
Terms and their explanations are better written down by you
To study well and succeed, ensure intake adequate protein food, good quantity of fruits, less of carbohydrates
Get into a pattern of study and follow the pattern as much possible
Learn to construct simple English sentences – this is the key for quick learning
I have tried to convey all the important points in a structured fashion and at the same time ensured that you, the student can create your own execution plan and script your success story.
If you follow this formula for your Engineering Degree, I can assure you chances are that you will do well in life.